Mulch Products
Natural Mulch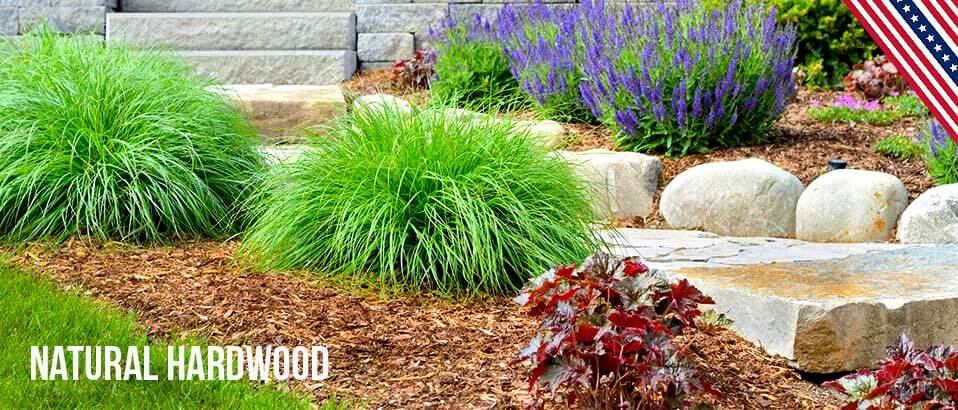 The Mulch America Way
Learn More About Our Company and Recycled Products
Natural mulch can be a beautiful addition to your landscape and garden. Mulch America's triple processed natural hardwood mulch provides brilliant color to landscaping all season long. Learn more about how natural mulch can be an asset to your garden, flower beds and landscape.
Why Use Natural Mulch
Mulch is a wise investment for your property. Mulch is a protective layer of material placed over the soil to hold in water and discourage weeds. Mulch allows nutrients and moisture to enter the soil. Mulch allows water to enter evenly, which lets moisture reach all sections of your garden's soil. Other mulches might absorb water on contact, which doesn't allow the soil to breathe properly.
Using mulch also reduces weed growth. Mulch can protect the soil from erosion. Mulch can help keep soil-borne diseases out of your garden and help keep your plants clean. Additionally, mulch can aid in keeping soil temperatures consistent. Natural hardwood mulch breaks down slowly over time. This adds nutrients to the soil.
Natural mulch can add visual interest to your landscapes and gardens. Your ornamentals, annuals, perennials, shrubs and trees will be accented by a warm natural hue that lets them show off their beauty. Mulch America's natural hardwood mulch is triple processed.
Benefits of Using Natural Mulch
The benefits of using natural mulch abound. You'll find many reasons why using natural mulch is good for your landscape.
Color
Natural mulch offers an earthy hue that looks great in a variety of landscapes. Additionally, Mulch America's triple processed natural mulch will keep it's color all season and beyond.
Add Moisture
Natural mulch is good for your soil, as it adds nutrients and moisture. Mulch will prevent water from being evaporated by the sun, keeping your plants in the moisture-rich environment they need to grow.
Prevent Weeds
Weeds can remove nutrients from your garden and ruin the look of your clean landscape. Mulch can deter new weeds from sprouting and can help kill existing weeds by covering them and blocking sunlight.  
Hold Temperature
Ohio summers can be hot and winters can be frozen. Using mulch in your garden or landscape can help protect your plants from changing temperatures and provide a layer of insulation above the soil.
Repel Insects
Some research suggests that insects don't like the dyes used in color enhanced mulch. Using mulch in your garden can help keep insects like termites, cockroaches and crickets away.  
How to Use Natural Mulch
You can apply natural mulch to your landscape any time of year. You don't need to wait for the planting season. You can put mulch around newly planted plants after they've been watered. Unlike rubber mulch, wood organic mulches like Mulch America's natural mulch decompose slowly. This gradual decomposition allows nutrients to enter the soil and allows the mulch to last for a long time in your garden or landscape.You might only need to replace your mulch every 2 or 3 years. Learn more about the simple process of using natural mulch.
Step 1: Measure
The very first step in using mulch is determining how much you will need. You can figure out how much mulch you'll need by doing some basic math. You will need to calculate the square footage of your garden or flower bed. To find the square footage, simply measure the length and width of your flower bed and multiply the two numbers. For example, a 8-foot x 6-foot flower garden would be 48 square feet. From there, you'll need to determine how deep you'd like the mulch to be. A depth of 3 inches is recommended. Each bag of Mulch America mulch is 2 cubic feet, which covers about 6 square feet at a 3-inch depth. This means you'll need about 8 bags of mulch to cover your 48 square foot mulch bed.
Step 2: Spread the Mulch
When you're spreading mulch, you'll want to wear comfortable, old clothing and gardening gloves. It's important that you wear gloves and clothing you don't mind getting dirty because color enhanced mulch can leave staining residue on your clothes and hands.
You'll start spreading mulch by pouring it around existing plants in your garden. It is important that you don't cover any seedlings or plants that haven't sprouted yet. From there, use your hands or a rake to spread the mulch evenly to a depth of about 3 inches. When you're spreading mulch, it is wise to be aware of the base of plants and buildings. You'll want to keep mulch a couple inches away from the base of plants and the foundation of your home or building.
Cover the entire bed of flowers, trees, shrubs, plants, and groundcover. You'll find that mulching is an importing part of establishing plants. Mulch keeps the necessary moisture in the plant's roots and suppresses weeds that could compete with your plants for nutrients and moisture.
In addition to being useful and attractive around plants, natural mulch is a great groundcover for walkways, pathways, driveways, natural areas and play areas.
After the mulch is spread in the desired location, you'll want to water your plants. The mulch will help the soil keep moisture, improving soil fertility and helping your plants grow.
Step 3: Make the Color Last
Mulch America's natural mulch is triple processed. You'll find our processes give our mulch many advantages over traditional mulch. The most obvious is its warm natural color, which is achieved through a patented process. You can keep your mulch looking great year round by turning and raking it every 3 or 4 months. This will help it keep its rich natural color.
Why Mulch America
Mulch America cares about the environment. Our natural mulch is made from 100 percent recycled resources. No trees are cut down to produce our mulch.. Additionally, our mulch is safe. Mulch America mulch is not harmful to children or pets.
You can be sure the distinctive color that sets our mulch apart in the garden centers will carry over to an eye-catching display around your home or buildings. Our premium mulch is processed 3 times so you will have the comfort of knowing that the vivid color of your mulch will hold firm from spring through fall. The longevity is what makes our mulch superior to other mulches that tend to appear lackluster in just a few months.
Mulch America also makes it easy to get your mulch. We offer both pickup and delivery service. Customers can pick up mulch at our facility any time during normal operating hours. Mulch America also offers a year-round delivery service for our mulch. There are multiple delivery options available to suit your needs. Wholesale mulch is also available.