For those who use mulch in a garden, around trees and shrubs or to create a decorative walkway the list of reasons why is long. And they swear by the benefits and point to the beauty of their space. So let's explore some of the top reasons why mulch is important in a garden.
All Things Pretty In the Garden
Achieving pretty spaces ranks high on the list of reasons as to why mulch is important in a garden. Mulch helps keep everything looking well-manicured. Some gardeners may compare no mulch to being all dressed up but wearing dirty shoes.

So depending on the color selected and what's planted, the addition of mulch keeps things neat and tidy. The use of mulch also creates depth in a garden space and compliments the color palate. We all want to take pride in our gardens and show off all our hard work to others.

Consider selecting a distinctive mulch color that will enhance the exterior appearance of the home or building where the garden is planted. Yes, mulch color is a matter of preference and factors in the building's exterior color and what's planted in the garden. Most landscapers recommend choosing either a color that best compliments the exterior color of a building or will be a good contrast to the plant material. How's that for mulch enhancing curb appeal.
Protecting Plants and Soil
One of the biggest reasons why mulch is important in a garden is to be a protective barrier for the plants and soil. Regardless of how small or large the space is, the use of mulch keeps everything in place.

A benefit of mulch is protecting the plant roots, especially in new soil. It may seem like a small thing, but it's critical for plants to develop good roots to promote the overall health of the plant.

During certain times of the year soil erosion and runoff can be a problem in gardens jeopardizing the stability of plants. It's another illustration of why mulch is important in a garden. Mulch helps keep soil in place thus maintaining the stability of each plant in the garden.

In addition mulch helps discourage the growth of weeds in gardens. Weeds, if allowed to flourish, become a huge problem. Reducing weeds in the garden promotes healthy blooms and other plants. Gardeners want to do all they can to prevent weeds from harming plants and many achieve this by finishing off the space with a layer of mulch.

Pests can also be a challenge in gardens depending on the season and what is planted. Along with preventing weeds, another reason why mulch is important in gardens is to be a deterrent for pests which can cause damage to the plant.

So spending a few extra minutes to add a layer of mulch can mean the difference of a healthy garden space versus one requiring weed removal or resulting in damaged plants from pests. A layer of mulch makes all the difference.
Understanding Why Mulch Is Important In a Garden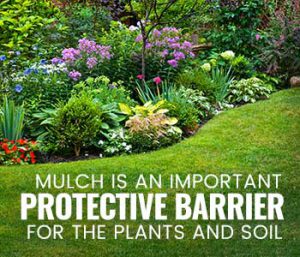 Some types of mulch products like those of Mulch America take longer to decompose. The process of decomposing adds beneficial nutrients to the soil. But a layer of mulch can be refreshed as the seasons change. Slower decomposition means you don't have to replace the mulch product as often. It's a real cost savings and also translates into less time needed to maintain the area.

The recommendation from landscapers and gardeners is to remove some of the previous batch of mulch which can be done at any time. However, be mindful that too much mulch can be harmful to plants and the soil.

It's best to examine how much of the mulch layer needs to be replaced so everything is in good balance. Here is yet more proof of why mulch is important in a garden.
To Water or Not to Water
The ability to regulate the amount of water is perhaps a top reason as to why mulch is important in a garden. Some types of mulch allow for water to penetrate the layer and reach the soil versus being evaporated on the surface.

When it comes to mulch, the concern usually revolves around whether enough water is reaching the garden soil. A key benefit to point out is that mulch can help reduce the need to water gardens frequently.

In addition to maintaining a good water level throughout the garden, mulch also helps to control the temperature of the soil. For instance in colder climates, mulch can help maintain heat if a light frost dusts the ground. In contrast, the sun's rays in summer can heat up the ground in no time, but a layer of mulch can keep things nice and cool under the surface.
Our Mulch Products
Mulch America offers a unique line of color-enhanced products all designed for water to be evenly distributed to reach the plants and soil to promote a healthy garden. The four mulch products also help retain water.

The Mulch America product line includes:
• Midnight Black – creates a stunning contrast, providing a healthy appearance
• Chocolate Brown – a rich color with a shredded appearance  
• Rosewood Red – a high-grade mulch with a rich cedar color
• Natural Hardwood – bright color with excellent color retention, fade resistance

Mulch America, based in Wilmington, Ohio, is a part of the family of companies owned by R.L.R. Investments, LLC. Customers may place an order for bulk mulch, bagged mulch and can learn more about why mulch is important in a garden. Let us know how much mulch you'll need for an upcoming garden project and a color preference to enhance an existing space. Our mulch products offer versatility to get the job done.
Category: Residential