Finding ways to add a pop of color to enhance a landscape is a project many gardeners take great pride in creating. And once each bloom is in place, many gardeners praise the mulch benefits witnessed in flower beds.
However, beyond the visible aesthetic benefits of mulch in flower beds there are a host of other advantages to be realized when this step is added to a gardening routine.
Covering Mulch Basics
Let's take a moment to make sure everyone understands exactly what mulch is before we get started. Basically, mulch is a material – either organic or inorganic – used to cover the soil around a plant. Mulch comes in many forms and can be used in a variety of ways to add a special touch.  Mulch can be used around the base of trees or shrubs, to form walking paths or driveways and of course to beautify flowerbeds.
The types of material used for mulch includes wood, grass clippings, and other organic matter like leaves to name a few. Selecting a mulch type depends on preference, the space and flower variety.
Benefits of Mulch in Flower Beds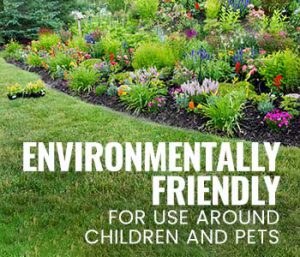 Using mulch in flower beds offers a list of benefits for gardeners that makes it worth the effort of putting it in place. Although many may just assume the role of mulch is to make an area look good, few realize mulch benefits go deeper than the visible surface.
Everyone wants to see flowers grow and flourish in the space where they are planted. The intent of flowers is to enhance the beauty of an area while mulch benefits the growth of each plant.  
Mulch benefits include:
       Better producing flower beds

       Water retention in the soil

       Helps control weeds

       Promote soil health

       Controls soil erosion
When it comes to using mulch, concerns typically focus on whether enough water is reaching the flowerbed and fear of weeds. A key benefit to point out is that mulch can help reduce the need to water flower beds frequently. Mulch can help promote the health and growth of new plants by maintaining the moisture level and protecting plant roots in new soil.
Garden experts recommend hardwood mulch blends can be best for insulating flower roots and holding water in place.
The color enhanced products by Mulch America are designed to allow water to reach the flowerbed soil evenly. As a specialized mulch, water is not absorbed on contact compared to other products, thus allowing the soil and lawn to aerate properly.
Added Mulch Benefits
Gardeners have an added mulch benefit since some types take longer to decompose which eliminates the need to replace as often in flower beds. The end result is a cost savings for gardeners and less time maintaining the beauty of the area.
When it is time to replace mulch, landscapers and professional gardeners agree that some of the previous batch can be left in place to further decompose and add nutrients to the soil. Meanwhile a new, fresh layer of mulch can be added to flower beds as seasons change and different flowers are planted. But overall, mulch can be added at any time to support plants in flower beds.
Make sure to understand if a plant in the flowerbed will be impacted by a specific mulch type or will need a fresh layer more often. And gardeners should be mindful to inspect mulch layers in case water runoff occurs or suffers sun fading or other damage.
A mulch benefit is that it thwarts the growth of weeds in flower beds. As any gardener or landscaper will tell you, weeds can be a huge problem to flower beds along with pests.
Select a Mulch Color
It's a matter of preference when it comes to selecting the specific type and color of mulch for flower beds. A few things will factor into the selection including exterior color of the home or building, location and plant material.
As a rule of thumb, landscapers advise selecting mulch colors that best compliment the exterior of your home or as a contrasting color for flower blooms. Again aesthetics are a mulch benefit which adds to curb appeal.
The colors in the Mulch America product line include:
       Midnight Black – a stunning contrast in any landscape, providing a healthy appearance

       Chocolate Brown – this rich color has a shredded appearance  

       Rosewood Red – a high grade landscape mulch adding a rich cedar color

       Natural Hardwood – provides bright color and has excellent color retention, fade resistance
The distinctive colors in the Mulch America product line helps gardeners create beautiful flower beds in landscape patterns. Our unique process of creating color enhanced mulch gives each flowerbed a vivid appearance to showcase the blooms of the season.
Worry-Free Mulch
Mulch America products have been independently deemed environmentally friendly for use around children and pets. The mulch benefits the soil and the plants of flowerbeds.
High quality, long lasting mulch certainly makes an impression in any landscape. Mulch America products are different from other retail brands and are versatile and effective in a variety of applications.
Additional mulch benefits with our products include:
       100% safe colors

       Slower decomposition

       Void of fungus and bacteria

       Ideal for annuals, perennials and ornamentals
Our premium mulches are blended from hard and soft woods and undergo a patented color enhanced process to achieve a product of vivid, lasting colors. Mulch that has been color enhanced allows water to penetrate to the soil level while also incorporating texture and rich hues into the landscape. The added level of benefits makes this worry-free mulch for flower beds.
Mulch America, based in Wilmington, Ohio, is a part of the family of companies owned by R.L.R. Investments, LLC. Customers may place an order for bulk mulch, the by bag or learn more about wholesale delivery.
Category: Residential, Wholesale