There are a number of reasons to mulch your garden, flower beds or landscape. You'll find a number of mulch products on the market today. When it comes to determining which mulch is best to prevent weeds, you'll need to do a little research to determine which is best for your needs.
Which Mulch is Best to Prevent Weeds
There are a number of mulch materials available to homeowners and landscapers today. All have certain benefits. According to information from Ohio State University's (OSU) horticulture extension office, mulch can:
Prevent weed growth

Help the soil hold needed moisture

Add nutrients to the soil

Reduce soil erosion on hills and graded lands

Keep flowers, fruits and vegetables clean

Make your landscape pop with color and contrast to your plants
There are both inorganic and organic types of mulches available to consumers today. Like all mulches, inorganic mulches can prevent weeds. Unlike organic mulches, inorganic mulches don't add extra nutrients to the soil as they decompose. Examples of inorganic or fabricated mulches include landscape fabrics, recycled rubber mulch, stone mulch, pebbles and gravel. Inorganic mulches won't decompose like organic mulches.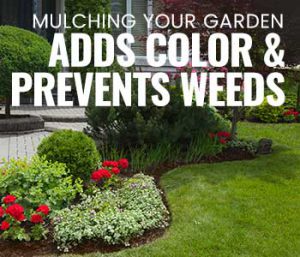 Organic mulches can add extra nutrients to the soil below. Common organic mulches include peat moss, pine needles, shredded wood, chip wood, chunk bark, bark mulch and shavings. Mulch America makes organic mulch from a 100 percent recycled source. This means no trees were cut down to make our mulch. Our mulch goes through a patented triple process and is color enhanced to add beauty to your landscape year round.
All mulches can help prevent weeds. Organic mulch, however, can add extra nutrients to the soil. Landscape fabrics, sometimes called weed barriers, can add a layer of protection from weeds underneath your layer of mulch. There are two types of landscape fabrics or weed barriers: non-woven and woven. Woven fabrics are thicker in diameter and tightly woven. Non-woven fabrics are spun bound or meshed. Most landscape fabrics can be used under traditional wood mulch, like Mulch America's mulch. Many weed barrier fabrics still allow water and nutrients from the mulch to penetrate the soil.
It is also important to weed your garden before applying mulch or laying weed barrier fabrics. This can help with controlling weeds and help remove weed seeds from your landscape.
When it comes to preventing weeds, the depth of your mulch can play an important role, too. According to information from a study by the University of California Farm Advisors (UCFA), even 1 inch of mulch can help prevent weeds. However, the study also found that using 3 to 6 inches of mulch in your bed is 2 to 5 times more effective than a single inch.
How Often to Apply Mulch to Prevent Weeds
According to the UCFA study, approximately 1 inch of mulch will decompose every year. As organic mulch decomposes, it releases nutrients into the soil below. It might be wise to apply mulch every year to keep reaping its benefits. Many gardening experts recommend that you maintain about 3 inches of mulch in your beds to prevent weeds and get the maximum benefits of your mulch.
If you're in Ohio or the midwest, you might find that late spring a mid-to-late fall are the best times to mulch. According to OSU, late spring or early May is a great time to mulch because the ground is warming up and is drying out from winter's rain and snow. If the season has been particularly cool or wet, it might be wise to wait until late May to add mulch. The fall is also a great time to apply mulch. Adding mulch in the fall can help prepare your beds for coming winter weather. If you can't get to mulching in the spring or fall, don't worry — it is safe to apply mulch any time of year around established plants.
Mulch America makes it easy to get your mulch any time of year. We offer our customers delivery service or they can choose to pick up their mulch at our facility during our business hours. If you opt for our convenient delivery service, you'll find a few different options available to suit your needs. Wholesale mulch is also available. Contact us today to learn more.
Tips for Applying Mulch to Prevent Weeds
Using a landscape fabric under your mulch can definitely help prevent weeds. If you are using a landscape fabric or weed barrier under your mulch, it's important that you install it correctly. According to information from DIY website This Old House, you can start installing your landscape fabric by spreading the fabric around your trees, shrubbery and plants. This Old House suggests overlapping the fabric by a few inches at the seams. The next step is securing the fabric into the ground with a U-shaped pin to keep it in place.
If you're relying on a few inches of mulch to prevent weeds, simply pour the mulch out and spread with your  hand or rake until the mulch reaches the desired depth. Adding mulch to your landscape is an easy way to add color and prevent weeds.
About Mulch America
Mulch America is a family-owned company. Our mulch is triple processed and color enhanced. Our mulch comes in the most desirable colors for your landscape: rich chocolate brown, midnight black, cedar red and warm golden natural. We care about the environment and our mulch is harmless to your children and pets. Our mulch is environmentally friendly and healthy for you plants and soil. When you purchase our color enhanced mulch, you're supporting the environment by using a eco friendly product. You have the satisfaction of knowing that no trees have been cut down to manufacture the mulch for your yard or beds.
Determining which mulch is best to prevent weeds can help you keep your gardens and flower beds healthy and green all year long. Contact us today to learn more about Mulch America and our products.
Category: Residential, Wholesale