Mulch adds a polished look to your garden and beds. Learn when to replace mulch and keep your garden looking great.
There are many reasons why using mulch in your flower beds and garden is a good idea. Mulch can:
Prevent weed growth

Keep moisture in the soil

Add organic matter and nutrients to the soil

Reduce soil erosion

Keep vegetables, fruits and flowers clean

Add to the aesthetic value of your home or business landscape
Organic mulches, like Mulch America's mulches, are made from a plant based material. Our mulch is made from recycled wood. Organic mulches decompose slowly over time, releasing nutrients into the soil below. According to information from the Ohio State University (OSU), mulch can improve and stabilize soil as it decomposes.
Knowing when to replace mulch will help keep your plants healthy and maximize the benefits of mulch.
When to Replace Mulch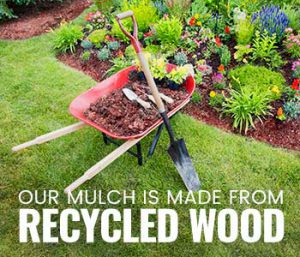 It is a good idea to replace your Mulch America mulch every year. Over the seasons, mulch decomposes. This releases nutrients into the soil below. Mulch color can fade over time, too. You can keep your mulch looking fresh and protect your plants by replacing it annually.
When you're replacing or adding mulch to your landscape, it's important not to add too much. It is best to maintain 2-3 inches of mulch in your planting beds. You might want to remove the mulch from the previous year to help maintain the needed depth.
It is important to know when to replace mulch on the calendar. The best times of year for mulching in Ohio are spring and fall, according to OSU. Replacing mulch during the right time of year can help you get the most benefits from your mulch.
Replacing Mulch in the Spring
By mid to late spring, the soil is dry after winter's rain and snow and has warmed up from cooler temperatures. In season with typical weather, you might find early May to be the best time to apply mulch in the Midwest.  If the winter has been particularly long with a cool, rainy spring, you might want to late until late May to apply your mulch.
Replacing Mulch in the Fall
Replacing your mulch in the fall can help your plants get ready for the winter ahead. If you have plants like fall-planted bulbs or perennials, a fresh layer of mulch can help protect them against winter's chill. According to information from OSU, the best time to mulch in the fall is later in the season. In the winter, mulch can help protect your plants' from heaving. Heaving can be damaging to your plant's root system.
Some homeowners and landscapers choose to replace mulch both spring and fall. This can help keep plants protected year round and help keep the mulch looking fresh and vivid. Mulch America's triple processed, color enhanced mulch will look great regardless of the season.
How to Replace Mulch: Dos and Don'ts
There are many things to keep in mind when replacing mulch. Here are some dos and don'ts to help you get started.
Do make sure the area is weed free before replacing mulch.

Mulch is good for suppressing weeds. Before you apply your new mulch, ensure that the area is free of weeds. This will help your mulch stop future weed growth and help stop weed seeds from growing.

Don't take a one-size-fits all approach to mulch depth.

Most garden experts recommend that you use about 3 inches of mulch in your garden or bed. However, the size of the mulch you choose might influence how deep you want it to be. According to information from Lowe's, the larger the mulch pieces, the deeper the mulch you should use. Smaller pieces of mulch will work into the soil more quickly and require fewer layers of mulch.

Do be aware of when to apply mulch.

The OSU horticulture extension office suggests applying mulch in the spring and fall. In the spring, the soil has warmed up and dried out from winter's rain and snow and is ready for mulch. In the fall, applying mulch can help protect plants from coming winter weather.

Don't put mulch on the base of buildings, plants, trees or shrubs.

It is wise to leave a few inches of room between the base of your plants, trees, shrubs and buildings when mulching. Having your mulch too close can trap moisture and attract certain insects.

Do measure your garden or bed before you mulch.

Knowing how big the area you'd like to mulch is will help you determine how much mulch you need. For example, because each bag of Mulch America mulch holds about 2 cubic feet, you'd need about 6 bags to over a 48-square foot mulch bed at a 3-inch depth.

Don't wear your best when replacing mulch.

Replacing mulch can be a dirty job. It is wise to dress in old clothes when replacing mulch. Colored mulch can leave a residue on your skin and clothes, which won't always wash out.

Do water your plants after you replace mulch.

After your mulch is spread around the desired area, you'll want to water your plants. The mulch will allow the moisture to penetrate and will help nutrients seep into the soil.

Don't forget to water.

After you have your mulch spread, water your plants. This will help the bed retain moisture.

Do rake every few months to make the color last.

Mulch America's triple processed, color enhanced mulch will look great all year long. You can keep your mulch looking fresh by raking it to turn it every 3 or 4 months. This will help your mulch keep its rich color.
Mulch America is a family-owned company that cares about the environment. Our 100 percent recycled mulch is safe for children and pets and will keep your landscape looking great all year long. Ensuring that you know when to replace mulch can help keep your planting beds pristine and healthy.
Category: Residential